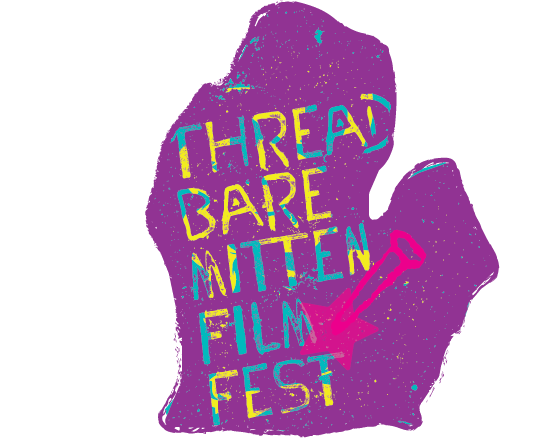 the Third Annual edition: new Bat-Time, new Bat-Town
Threadbare:
- films crafted with artistry, despite what seams may show through.
- genre conventions thoughtlessly reiterated, losing all context of their original meaning.
...so...
What's your Genre?
The Threadbare Mitten Film Festival is a celebration of genre cinema, here in the tell-tale heart of Michigan.
"Think of the Threadbare Mitten Film Festival as the anti-genre, but all-genre film festival, if that makes any sense. Truly a grassroots festival if ever there was one."
- Michigan Film and Digital Media Office June Newsletter 6/12/18
Another Festival… But, Why?
Ours is a different kind of film festival, for both filmmakers and audiences. We're looking for great films, yes, and we're interested in your standard "genre fare" of horror and sci-fi, sure… but we're also interested in the films that slip through the cracks of the more established film festivals, the ones that are a bit too odd and too difficult to program. We also don't immediately throw a film out of consideration if it's a little threadbare, if some of the seams show, as long as the artistry is pure.
We love when a filmmaker tells us: "So. I've got this movie. And I wasn't really sure what kind of box it fit in. And here you guys come along and you bring up the same exact analogy. So I was immediately like, 'these people are alright with me.'" Heck, that was our first "Best Feature Film."
We love the films that aren't exactly one kind of movie but play between and across expectations. We also love the films that simply scare the heck out of us, or that can make us laugh until we cry.
We don't do random, schizophrenic emotional roller coasters with our programming. We program our festival so that you know what you're buying a ticket to. A comedy program isn't going to slip something terrifying in, while a bloody horror block of films is going to satisfy.
We also don't lose sight of where we are, and the amazing homegrown talent around us. The Mitten always belongs in the Threadbare Mitten Film Festival, and Michigan films and filmmakers will not be shunted aside in favor of bigger budgeted indie favorites.
Whether it's unique voices in documentary, absurdist comedy, disturbing horror and exploitation, science fiction and fantasy, neo-noir or a road movie, magical realism, art house and experimental narrative, about the only thing you won't find playing at the TMFF is a typical "indie drama." There's plenty of other places for those films. We're here to give a home to the films that need one, and an audience who will appreciate the best and bizarre that cinema has to offer.
Explore our Award Winning Films for a taste of what may lie ahead.
Staff
DT Kofoed - Grand Festival Conquistador
[festival director, webmaster, submissions team leader] A Filmmaker himself, and a scholar of print and screen, Mr. Kofoed was one of the originators of TMFF when it was just a twinkle in the eye of some dreamers. he is Returning as director and programmer for the third year. every film submitted to the festival passes before his eyeballs.
Tara Alexander - Day of Dictator
[event manager, treasurer] mrs. alexander has been assisting with the operations of the festival event since the first year, bringing years of business management and customer service experience to the role. she's one of those creepy horror film fans, and has recently produced a pair of locally filmed shorts.
Desiree Kofoed - BTS Boss
[committee chair, secretary] mrs. kofoed has been roped into these misadventures from the beginning, and makes the best of it, helping as she can. with untold years of organizing experience from the realms of non-profit work, she keeps things running as smoothly as they can. her tastes run towards inappropriate comedies and documentary narratives.
Rachel Bailey - Volunteer Wrangler
[volunteer coordinator] Ms. bailey volunteered extensively for our first two years, and was so helpful, we figured she knew more at this point about what needed to get done than we did! So for this year she can take care of all that jazz for us. She likes farts.
Midori Ivy - Design Alchemist
[graphic design] Mrs. ivy took over graphic design duties of our printed material in a pinch for our second year, with no advance notice and an unrealistic time frame, and still produced excellent work. so, this year we've taken her on permanently. Her tastes run to the bizarre, as long as the fonts are not trash! She is also a decent actress in her own right.
Judges
Our Judges are culled from the local community of artists, film aficionados, and interested business owners. They are organized by the Festival staff, and final programming decisions lie with the Festival Director. Jury Awards are decided by the judges as a whole.